Sony PlayStation Plus 1 Year / 12 Month Membership Subscription Code - PS / PSN
Regular price
$42.99
Sale price
$69.99
Unit price
per
---
Share this Product
These are Virtual items that will be electronically delivered.The items will be sent by email within 24 hours, so be sure to fill in your email address correctly.
You can communicate with us by email service@pandaoo.com before and after purchase.
Sony PlayStation Plus 1 Year / 12 Month Membership Subscription Code - USA
You're Ordering
Sony PlayStation Plus Membership Subscription Code 
1 Year/12 Month - PS/PS Plus Code - USA
PRODUCT DETAILS
One year membership to PlayStation Plus.

Works for United States accounts – can be used internationally on United States PlayStation accounts

Access to instant Game Collection

Play online multiplayer on the PS4 system

Membership benefits for PS4, PS3 and PS Vita systems
SHIPPING
USA, CANADA,
Verification may be necessary to confirm authenticity of the transaction
Given the nature of this product and dispatch upon purchase, we deal with a significant amount of chargebacks from guests who have had their accounts compromised. While we're committed to distributing products as fast and affordably as possible - we're also committed to protecting our guests.
In the rare case we are unable to confirm you order as an authorized guest, we will ask for verification to confirm the authenticity of this transaction, please hide any non-relevant information. If you're not comfortable with this, we understand, however, know we would not be implementing this process if it were not needed.
Supplied by authorized Microsoft and Sony partners. To comply with the terms and conditions of both Microsoft, Sony, and eBay, all of the items sold are new and sourced directly at the time of sale from third party Microsoft/Sony sellers.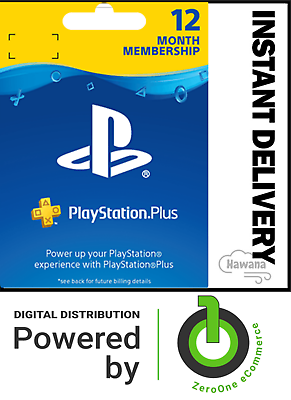 ---